testing the news feature for the 2017 Bell Aliant Peewee AAA Atlantic Hockey Tournament. For webinar
[2017-09-27 09:38:24]
---
AAA
Tri-Com Thunder of NL Win Atlantic AAA Gold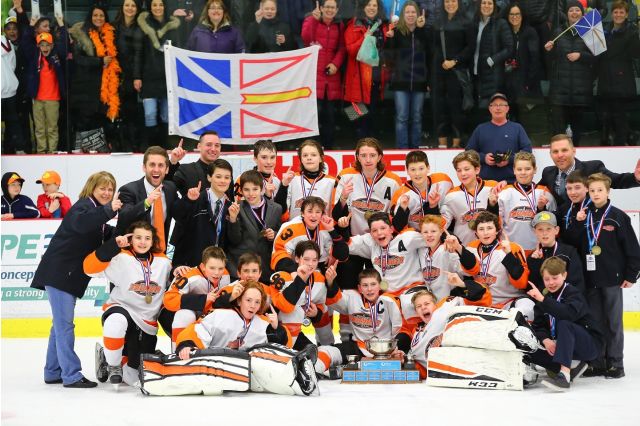 The host B&B Electrical Tri-Com Thunder defeated the Pictou County Crushers of Nova Scotia 5-0 to claim the club's first ever Bell Aliant Peewee AAA Championship at CBS Arena on Sunday afternoon. The host team went undefeated in the Spring classic.
Thunder amassed a 5-0 lead after two periods in the gritty affair on a pair of goals from NL Player of the Game Reegan Hiscock, and singles from James Noonan, Mitchell Wagner, and Tanner Hawkins. The third period remained scoreless, giving Thunder goalie JT Tobin is second tournament shut-out.
[Full Story]
[2017-04-09 11:45:23]
---
AAA
Charlottetown Abbies Win Bronze at 2017 Atlantics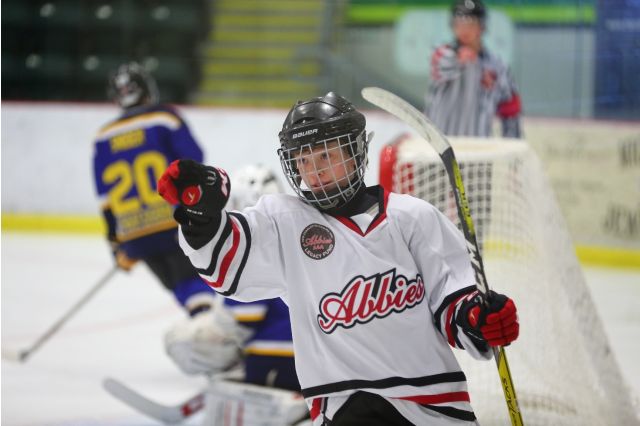 Charlottetown Abbies launched an impressive offensive attack on the Riverview Blues on the way to a convincing 10-3 victory to claim the bronze medal at the 2017 Bell Aliant Peewee AAA Atlantics in CBS, NL on Sunday. Player of the Game Cameron Squires (4 points) and Jamie Collins (6 points) led the way for the Abbies. Tyler Worth and Brett Arsenault also scored a pair each for the winners, while singles came from Kal White, Bates Ling, and Jonah MacDonald.
[Full Story]
[2017-04-09 09:25:24]
---
AAA
Award Winners at 2017 Bell Aliant Atlantics Announced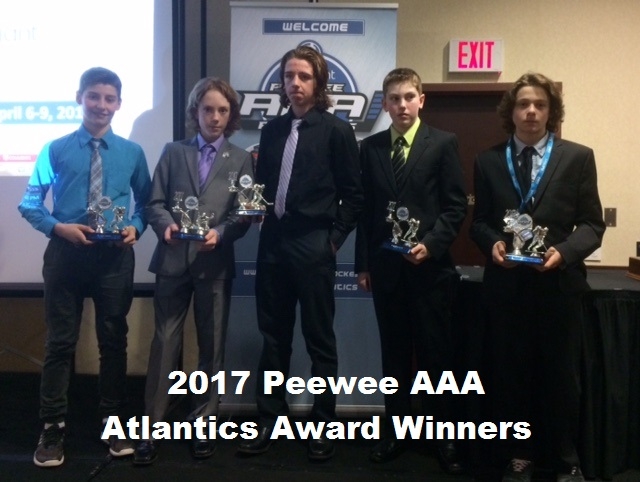 The host Tri-Com Thunder were big winners at the 2017 Bell Aliant Awards Banquet held at Capital Hotel on Saturday night. The team claimed three individual awards: JT Tobin as Top Goalie for surrendering only one goal over two games and wins; Jaden Dyke as Top Forward, and defenseman Liam Marshall as Most Valuable Player. Isaac Vos of the Charlottetown Abbies walked away with Top Defenseman, while Lucas Canning of the Pictou County Crushers won the Top Scorer award with 9 points. Canning just edged out Marco Martin of the Riverview Blues and Dyke by a single point.
[Full Story]
[2017-04-09 04:51:40]
---
AAA
Tri-Com Thunder Rolls Into Sunday's Final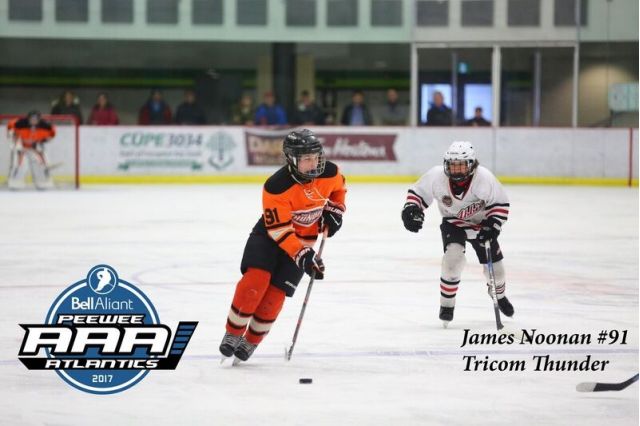 The second match of Day 3 saw the host Tri-Com Thunder defeat the Charlottetown Abbies 4-2 to go undefeated in round robin play and secure home ice advantage in Sunday's goal medal game at noon.
James Noonan (Player of the Game) led the Orangemen with two tallies on Abbies' goaltender Jack Howatt, while Reegan Hiscock and Braedy Walsh added singles. The Abbies outshot the Thunder 28-18 but just couldn't bury the biscuit when it counted. Jamie Collins scored both Charlottetown goals on winning goalie Caleb Loveless.
[Full Story]
[2017-04-08 21:16:00]
---