Tri-Com Thunder Rolls Into Sunday's Final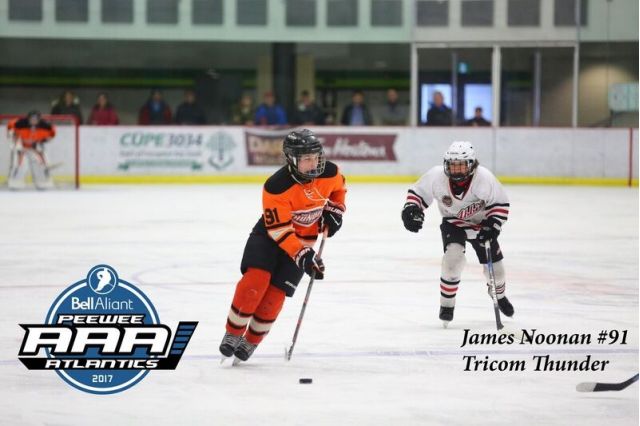 The second match of Day 3 saw the host Tri-Com Thunder defeat the Charlottetown Abbies 4-2 to go undefeated in round robin play and secure home ice advantage in Sunday's goal medal game at noon.
James Noonan (Player of the Game) led the Orangemen with two tallies on Abbies' goaltender Jack Howatt, while Reegan Hiscock and Braedy Walsh added singles. The Abbies outshot the Thunder 28-18 but just couldn't bury the biscuit when it counted. Jamie Collins scored both Charlottetown goals on winning goalie Caleb Loveless. Defenseman James Morrison earned Player of Game honors the for the PEI team based on his stellar and consistent work in both ends of the rink.
Tri-Com Thunder will now face the Pictou County Crushers from Nova Scotia for the Atlantic title on Sunday at noon at the new CBS Arena. Charlottetown Abbies will face either St. John's Hitmen or Riverview Blues in the bronze match at 9:00am Sunday.
[2017-04-08 21:16:00]